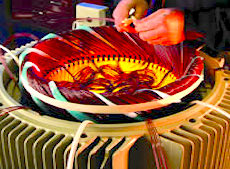 Community Motors is more than just a "motor shop". We provide electric motor rewind and rotating equipment repair and can fix just about any piece of rotating equipment you have. Call us and let our experience go to work for you today!
Ask us about our "Drive Start-up and Commissioning" services. We'll get your AC or DC drive setup and running right the first time! Our service team is ready to help you solve all your installation concerns!
Electric Motor Rewind and Rotating Equipment Repair
Here are some of the Value-Added Services we offer.
Services we Specialize in
Small Electrical Jobs
Installation of Meter Poles Temporary and Permanent
Motor and or Control Installations
Motor and or Equipment Installations  ( less than 5 tons in weight)
Air Compressor Installations
Generator Services
Standby Generator Services and Maintenance Plans
Propane and Natural Gas Conversions of Portable Generators
Stand by Generator Installation as well as service and maintenance contracts
Service and repair RV Generators as well as Marine Generators