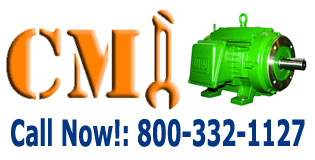 A generation ago, when a large industrial motor neared the end of its service life, the debate about repairing or replacing it was usually pegged to the magic number of 57. This was a number derived by purchasing agents, based on the residual value of a run-out motor plus repair cost, versus the cost of a new motor and the delay in getting it into service.
If the motor could be repaired for less than 57% of the price of a new one, it was repaired; if the internal damage was extensive and repair cost was going to exceed 57%, the agent ordered a new motor. That was then.
This is now: Energy costs are greater, motor efficiency can be greater, and repair technology is much improved, resulting in little or no loss of motor efficiency after a rewind. (In fact, when rewinding an older "pre-EPACT" stator, a service center can actually improve efficiency on larger horsepower units.) For ac motors particularly, the repair/replace choice has become complicated—especially for medium and large motors that run for an intermediate or high number of hours per year. Complicating the issue is the fact that there are three categories of induction motors: standard, first-generation energy efficient (EE), and current EE motors. In the real world, they are often used interchangeably.
Motor circuit evaluation (MCE) testing provides a heads-up when a motor is nearing the end of its useful life. If the megohm (commonly called "megger") part of the test shows resistance to ground is less than 100 ohms, the motor is nearing the end. Surge testing tends to back up results of the megger test if surge patterns are uneven. Hi-pot testing is a go/no-go test in that it is destructive to windings; a motor that fails a hi-pot test is no longer serviceable.
It's easy to show that, for motors that operate nearly continuously, in choosing between repairing a standard unit and buying an EE motor, the new motor wins hands down because it will pay for itself in a few years. What is less clear is choosing between the repair of an existing EE motor or replacing it with a new one—or making the same choice between two standard motors that operate for fewer hours.
Only at the lower end of horsepower range, below 40 hp, and low operational time does the old 57% rule still apply.
Advanced repair technology
In simplest terms, EE motors are made more efficient by tightening manufacturing tolerances and packing more conductor into the motor to reduce internal losses. Likewise, repair technology has become more precise, too, and the degradation of efficiency that was common in a motor rewind has been cut drastically. Now, repair shops can rewind a motor to its original nameplate efficiency and, in certain circumstances, improve efficiency. This applies to both standard and EE motors.
Obviously, the cost of a rewind can vary with the degree of internal damage, but a typical price for a 100-hp induction motor that we will use as an example is between $2,500 and $2,700—or $2,600 average per IPS Washington Service Center price guidelines.
The hours threshold
High hours: When a motor operates more than 4,000 hours per year, the cost of energy becomes the overriding factor in the repair/replace decision. Like a high-mileage vehicle, the cost of "fuel" quickly outweighs the cost of vehicle, and a repair/replace decision becomes a matter of choosing the solution with the greatest efficiency (see Figure 1). Typical applications are those devices that operate almost continuously, including large compressors, petrochemical pumping stations, crushers, feedwater pumps, paper machines, some metal extruders, plastic film lines, saw mills, rolling mills—or just about anything that operates for three shifts. Read More