Electric Motor Rewind or Replace?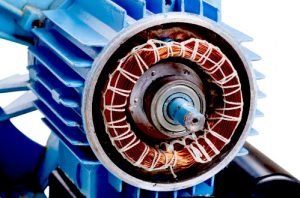 Electric motors perform a significant amount of work in the modern world. But after years of service, do you know which devices need replacement and which may only require electric motor rewind repair? If you are uncertain or not confident about accessing the condition of an electrical motor, get in touch with the experts at Community Motors, Inc. We can help you evaluate your repair and replacement options.
If you do not need a motor replacement, an effective electric motor rewind may fit nicely within your budget. It can also add years of viability to a motor purchase made years ago. In cases like this, repair is an excellent option as long as the motor isn't decrepit. Overall, there are five repair levels to consider:
Level 1 repair is a basic overhaul or reconditioning. It covers cleaning the components and minor repairs like replacing bearings and replenishing the lubricant. It also includes initial inspection and testing (before, during and after repair).
Level 2 repairs include everything in Level 1, plus varnish/resin treatment of stator windings, repair of worn bearing fits, and straightening of shafts. Due mainly to the extra labor required, Level 2 represents a significant expansion in the scope of repairs. These repairs may cost several times more than Level 1 repairs, and take quite a bit longer to complete.
Level 3 repairs add stator rewinding (replacement of the windings and insulation system) to Level 2 repairs. Smaller, single-speed motors are relatively easy to rewind. Special windings (e.g., two-speed or very low-speed windings) often require more labor, material and expertise to repair. In either case, the extra step of rewinding the stator expands the scope and increases the cost of repair considerably.
Level 4 repairs are the most comprehensive. Besides Level 1-3 procedures, they encompass major repairs of the stator core and/or replacement of rotor bars and end rings. They also may include replacement of the stator core laminations or the shaft. Never undertake Level 4 repairs without first considering the option of replacement.
Level 5 repairs, as mentioned earlier, apply to motors that normally would be replaced, except in special circumstances, e.g., lack of a spare or replacement unit. Depending upon the standard or special features of a particular motor, Level 5 could apply to any of the other four levels of repair.
Rewinding a motor is far from a simple job and it is wise to get a professional examine the motor and perform the rewinding process. If the motor has been previously repaired, it's also possible that the motor was incorrectly rewound previously. Community Motors serves all of Houston, Texas and can do it right the first time as electric motors can be expensive to repair or replace. We not only understand electric motor rewind but do it faster and at less expense to you than anywhere else in Houston.
Electric Motor Rewind Assessments
The extent of the repair is contingent upon the degree of deterioration to the electric motor. Electric motor repairs should be accomplished by qualified repairmen or companies that focus on electric motor restoration. Ongoing servicing from CMI can assist in minimizing future difficulties and downtime at your business. Our electric motor repair services consist of dynamic balancing, laser alignment, rewinding and complete electric motor diagnostic testing.
A failed motor can place stress on the plant maintenance team. Sound motor management reduces downtime. If you wish to maintain your organization's maximum productivity and manufacturing potential, you can make cost-effective decisions now that can result in savings. Do this before a crisis takes place. Contact Community Motors, Inc. in Houston for the steps involved in conducting an assessment in advance of your needs. We will help your team put a game plan together!