Electric Motor Repair Shop in Houston, Texas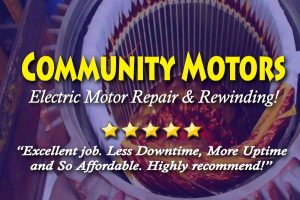 When looking for an electric motor repair shop, consider that electric motor failures are frequently caused by in-house operational factors. These include production activities and the rigorous shop environment in which electric motors are used and operate. Community Motors effectively employs a combined strategy of in-shop repairs and onsite field services. This allows us to service the motor repair needs of clients for both scheduled outages and 24/7 emergencies no matter where you may be located in the Greater Houston metropolitan area.
Various capabilities and assets are required for companies who offer and specialize in electric motor repair and rewinds. Our qualified and experienced riggers perform various services for both work in our shop in New Caney and on-site jobs all over Houston. We use quality equipment to ensure maintenance and repairs are done right the first time. At Community Motors, Inc. you get an electric motor repair shop with services and equipment to ensure that your electric motors are repaired to your expectations.
Business operational efficiency and cost-effective solutions to your circumstances provides you savings and uninterrupted production time. We can help you craft a regular maintenance program for your electric motors to ensure their optimum productivity and consistent work levels while also preventing costly and unnecessary replacements. As a reputable and reliable repair company, Community Motors can help your business run efficiently at all times.
Looking for an EASA accredited shop? Our repair processes strictly follow the ANSI and AR-100-2010 standards required!
For years, Community Motors, Inc. has been Houston's proven leader in electric motor repair and new electric motor sales. We specialize in electric motor repair and sales. Our shop is stocked with every part you need, and staffed by an experienced and well-trained staff to repair your AC or DC motor. Less downtime, more uptime, guaranteed.
Community Motors is your approved Houston Sales and Service Center for WEG, North American Electric, NIDEC, US Motors, Emerson, Lincoln Motors, Baldor, ABB, Brook Crompton and Leeson.
Be sure to check out the Community Motors, Inc. Facebook Page!